Summary
The Church of San Vicente is located in San Sebastián's Old Town. It is the oldest church in the city. Built in the Gothic style during the first half of the 16th century, its interior houses one of the best Romanesque altarpieces, a work by Ambrosio de Bengoechea and Juan de Iriarte.
General information
See complete tourist information about San Vicente church
Accessibility information
Transport
It can be reached by adapted public transport.
The 5, 8, 9, 13, 14, 21, 25, 26, 28, 29, 31 and 42 services from the urban bus network operated by Dbus have stops 500 m from the church.
The nearest bus stops to the church are "Boulevard 19", "Boulevard 17", "Boulevard 15", "Boulevard 13", "Boulevard 9" and "Boulevard 3", 500 m from the church.
The route between the bus stops and the church is barrier-free.
Information on services and schedules: www.dbus.eus
Or in Dbus app.
Parking spaces for
PRM
There are on-street spaces reserved for people with reduced mobility 400m away.
European Blue Parking Badge holders can park free of charge for 24 hours at a time in on-street spaces marked as

PRM

.
They can also park in any

OTA

zone at tariff 2.
For more information about on-street

PRM

spaces and the blue badge, see the On-street parking for PMR fact sheet.
All public car parks have spaces reserved for

PRM

for a fee.
Access
The church has a main entrance at ground level.
Manual door with clearance > 90cm.
The turning radius on the inside and outside of the door is greater than 1.5m.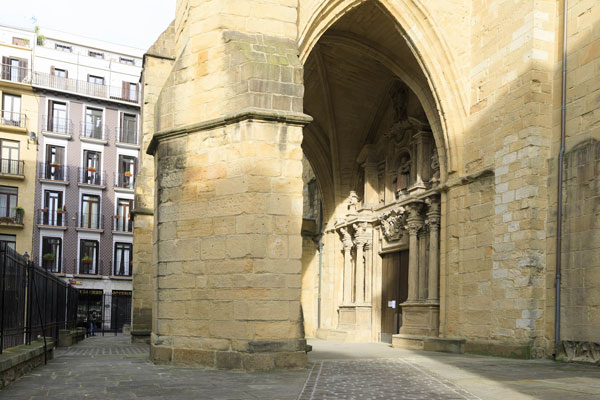 ¡Please note! Heavy door.
Also, it has an alternative entrance on the right, which has a step.
Adapted toilets
Please note! There are no toilets.
Getting around
The inside of the church is accessible to wheelchair users.
Hard, non-slip flooring.
There is a small table with leaflets.
Please note! Some passageways are narrow.
Assistance dogs
Assistance dogs (guide, signal, medical alert, autism, service dogs for people with reduced mobility, etc.) are admitted free of charge, in accordance with Law 10/2007, of 29 June, on Assistance Dogs for the Care of People with Disabilities.
Physical accessibility
Parking spaces for

PRM

in the vicinity. See the fact sheet for PRM spaces: On-street parking for PMR.
Barrier-free vertical and horizontal access and circulation.
Visual accessibility
Hearing accessibility
No magnetic induction loop, sign guides, video guides or sign language tours.