Summary
The Basilica of Santa María is an impressive 18th century Baroque building that presides over Calle Mayor in the heart of San Sebastián's Old Town. It was built between 1743 and 1774 on the foundation of a older church that occupied the same space. The main entrance to the basilica is on a straight line from the entrance to Buen Pastor Cathedral 1 kilometre away. The Baroque façade with its Churrigueresque touches is a particular highlight, topped by a sculpture of Saint Sebastian the Martyr, and the main altarpiece dedicated to the Virgen del Coro, patron saint of the city.
In addition to its architectural and artistic value, and its role as a place of worship, the organ and choir concerts held in the building regularly are worthy of note.
General information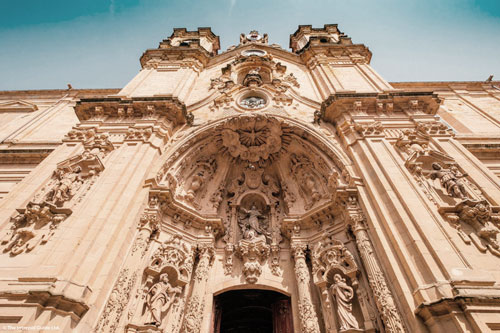 See complete tourist information about Basilica of Santa María
Accessibility information
Transport
It can be reached by adapted public transport.
The 5, 8, 9, 13, 14, 21, 25, 26, 28, 29, 31 and 42 services from the urban bus network operated by Dbus have stops 400 m from the basilica.
The nearest bus stops are "Boulevard 19", "Boulevard 17", "Boulevard 15", "Boulevard 13", "Boulevard 9" and "Boulevard 3", 400 m from the church.
Information on services and schedules: www.dbus.eus
Or in Dbus app.
There is a taxi rank next to the bus stops on the Boulevard.
The pedestrian routes between the bus stops, taxi rank and the basilica are accessible to wheelchair users.
Parking spaces for
PRM
There are on-street spaces reserved for people with reduced mobility 300m away.
European Blue Parking Badge holders can park free of charge for 24 hours at a time in on-street spaces marked as

PRM

.
They can also park in any

OTA

zone at tariff 2.
For more information about on-street

PRM

spaces and the blue badge, see the On-street parking for PMR fact sheet.
All public car parks have spaces reserved for

PRM

for a fee.
Access
The basilica has a main entrance.
The door can be reached via a ramp and stairs. The ramp and stairs have no handrails.
Some of the flooring is uneven.
Manual door with clearance > 90cm.
The turning radius on the inside and outside of the door is greater than 1.5m.
Please note! There is a counter at the entrance that is not accessible to wheelchair users but there is usually an assistant.
Adapted toilets
Please note! There are no toilets.
Getting around
The inside of the basilica is accessible to wheelchair users.
Hard, non-slip flooring.
It has stairs and ramps for access.
Assistance dogs
Assistance dogs (guide, signal, medical alert, autism, service dogs for people with reduced mobility, etc.) are admitted free of charge, in accordance with Law 10/2007, of 29 June, on Assistance Dogs for the Care of People with Disabilities.
Physical accessibility
Parking spaces for

PRM

in the vicinity.
Barrier-free vertical and horizontal access and circulation.
Visual accessibility
Hearing accessibility
No magnetic induction loop, sign guides, video guides or sign language tours.