Summary
La Concha beach is one of Donostia-San Sebastián most iconic locations. Located right in the heart of the city, it offers visitors magnificent views from its beautiful shell-shaped bay, looking over Santa Clara island in the centre, flanked on the sides by Mount Urgull and Mount Igeldo.
At 1,350 meters in length, is ideal for bodyboarding and it features an outcrop that jut into the sea "El Pico del Loro", which surfaces at high tide.
In the summer season, a platform is erected in the bay with slides and diving boards for everyone to enjoy.
The beach offers the following services, among others: assisted bathing service for people with reduced mobility and/or disabilities, canoe rental, public toilets, showers, changing rooms, drinking fountains, beach bar, parasol rental, PA system, parking, lifeguard and monitor service, sports facilities, beach volleyball...
General information
+34 943 481 166 / +34 607 187 462
Free entry. Access to shower and public changing booths, 1,50€.
Opening hours
June and September: from 9:00h. to 20:00h.
July and August: from 9:00h. to 20:30h.
April, May and October: from 10:00 to 18:00h
Rest of the year: from 10:00 to 17:00h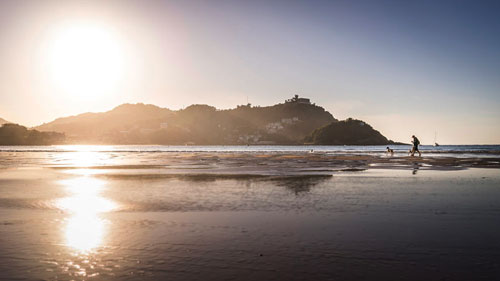 See complete tourist information about la Concha beach
Accessibility information
Services and facilities
WC: 24 (3 adapted)
Lavatories: 7.
Showers: 62 (hot water) + 1 for wheelchair users.
Lockers: 648
A towel rental service is available at the showers.
There is a first aid kit.
The beach has a lifeguard service during the bathing season from 1 June to 30 September.
La Concha beach provides an assisted bathing service for people with reduced mobility, the elderly and/or the disabled.
Transport
It can be reached by adapted public transport.
Many Dbus city bus lines have stops near the beach.
For example, lines 5, 16, 18, 25, 33, 40, 45, among others.
Information on lines and schedules www.dbus.eus/en
The information is also in the Dbus mobile app that is available for iOS (Download) , Android (Download), and Windows (Download).
The beach is a 10 minute walk (800m) from Amara Euskotren station and 13 minutes (one km) from the bus station and the city's

RENFE

train station.
The pedestrian routes between the bus stops, train stations and the beach are accessible to wheelchair users.
Parking spaces for
PRM
There are on-street spaces reserved for people with reduced mobility in the city centre near the beach.
European Blue Parking Badge holders can park free of charge for 24 hours at a time in on-street spaces marked as

PRM

.
They can also park in any

OTA

zone at tariff 2.
For more information about on-street

PRM

spaces and the blue badge, see the corresponding fact sheet.
There is a public car park nearby. For more information on underground public car parks, see Automobile - Private car fact sheet.
All public car parks have spaces reserved for

PRM

for a fee.
Access
The beach has access ramps.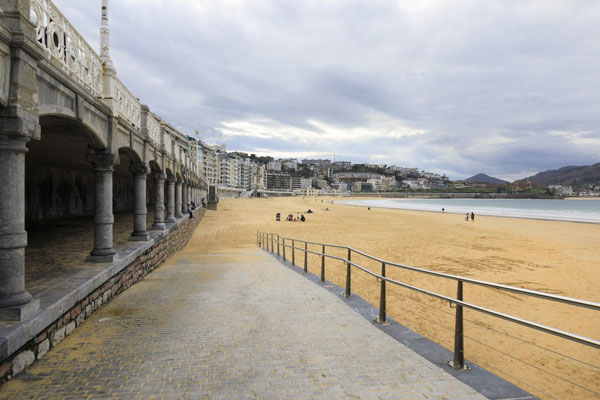 Adapted toilets
There are 3 adapted toilets and a shower accessible to wheelchair users at the beach.
Getting around
During the bathing season there is a walkway accessible to users with reduced mobility from the main entrance, located near the clocks.
Please note! The walkway does not go all the way to the shore.
Escort service: assisted bathing and barrier-free bathing
During the bathing season, La Concha beach offers two services to support the disabled, the elderly and/or people with reduced mobility.
Assisted bathing for people with reduced mobility.
This services facilitates access to enjoy La Concha beach and make it possible for people with mobility problems to swim in the sea using an "amphibious vehicle" which, with the help of one or two monitors, allows mobility both on the sand and in the water.
Dates and times: every day from 15 June to 30 September. From 11:00 to 19:30h.
Location: on La Concha beach, next to the clocks and the lifeguard station.
Reserving a slot: the service accepts drop-ins but preference will be given customers with reservations. You can make a reservation during bathing hours with the monitors where the service is provided, or by calling +34 662 387 008. Reservations cannot be made more than 7 days in advance or for more than 3 hours in a given week.
Barrier-free bathing.
Fundación Hegalak – Zabalik offers a barrier-free bathing service at the Hegalak sports centre. The service is an escort programme on San Sebastián's La Concha beach for people with functional diversity or reduced mobility.
It is provided by qualified personnel with specialist training in assisting disabled and elderly people, lifeguard services and physiotherapy.
It provides the necessary technical support to facilitate access: transfer cranes, buggies and assisted bathing accessories, special walking sticks for the sand, life vests, etc.
Assistance dogs
Assistance dogs (guide, signal, medical alert, autism, service dogs for people with reduced mobility, etc.) are admitted free of charge, in accordance with Law 10/2007, of 29 June, on Assistance Dogs for the Care of People with Disabilities.
Physical accessibility
Toilets, booths and adapted showers.
Parking spaces for

PRM

in the vicinity.
Barrier-free access.
Assisted bathing service available in summer.
Please note! The beach itself is partially accessible. There is an accessible walkway, behind the access ramp, but it does not go all the way to the shore.
Visual accessibility
Hearing accessibility
No magnetic induction loop at the lifeguard station.
There are also no instructions or information in sign language.