Summary
The Kursaal Conference Centre is an emblematic architectural complex in the city of San Sebastián. It is a multi-purpose space for events, meetings, congresses, exhibitions and concerts. And it is a vital meeting place for Donostians, Gipuzkoans and visitors alike. The architect behind this unique space, Rafael Moneo, describes it as "two rocks stranded" at the mouth of the river Urumea, inclined five degrees vertically and three degrees horizontally in an attempt to perpetuate the geography and, as far as possible, emphasise the harmony between the natural and the artificial.
It has an entrance hallway, an auditorium, a chamber room, exhibition areas, restaurant areas and terraces.
General information
Paseo Zurriola, 1. San Sebastián 20002 Gipuzkoa.
+34 943 003 000 / +34 943 003 039
This email address is being protected from spambots. You need JavaScript enabled to view it. / This email address is being protected from spambots. You need JavaScript enabled to view it.
Ticket office opening hours:
15 June to 14 September: Monday - Friday 11.30 - 13.30 Open in the afternoon on concert days. The ticket office is closed on Saturdays, Sundays and public holidays except on concert days.
From 15 September to 14 June: Monday to Friday: 11:30 to 13:30, Thursday, Friday and Saturday and concert days: 17:00 to 20:00.
Prices:
Prices vary depending on the show and seat choice. Queries: www.kursaal.eus/en
Wheelchair users and a companion receive a 20% discount.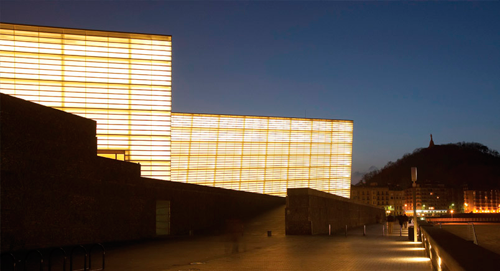 See complete tourist information about the Kursaal Congress Centre
Accessibility information
Transport
It can be reached by adapted public transport.
Many Dbus city bus lines connect different points of the city with the Boulevard, Calle Oquendo and La Zurriola, all close to the auditorium.
For example, lines 17, 29, 31 and 40 are next to the Kursaal.
Information on lines and schedules: www.dbus.eus/en
The information is also in the Dbus mobile app that is available for iOS (Download) , Android (Download), and Windows (Download).
There are taxi ranks near the auditorium: on the Boulevard, Paseo Colón, at the Gros Clinic and Paseo Larroca.
The pedestrian routes between the auditorium, the taxi rank, the bus stops, the nearby PRM spaces and the public car parks in the vicinity are accessible to wheelchair users.
Parking spaces for
PRM
There are several parking spaces reserved for people with reduced mobility near the auditorium.
European Blue Parking Badge holders can park free of charge for 24 hours at a time in on-street spaces marked as

PRM

.
They can also park in any

OTA

zone at tarif 2.
For more information about on-street

PRM

spaces and the blue badge, see the On-street parking for PMR fact sheet.
All public car parks have spaces reserved for

PRM

for a fee.
Access
The Kursaal Centre has 4 entrances at ground level.
Automatic sliding doors and manual doors with clearance > 90cm.
There is an elevator.
Information point
Automatic sliding doors and manual doors with clearance > 90cm.
There are information points inside accessible to wheelchair users.
Access to information and tickets at www.kursaal.eus/en
Adapted toilets
The auditorium has adapted toilets on both floors. And in the chamber room, on the ground floor.
The door clearance is 90cm.
The turning radius is 1.50m.
The toilets have a fixed bar and a folding bar.
Getting around
The horizontal and vertical circulation within the auditorium is accessible to wheelchair users.
Hard, non-slip flooring.
An elevator is available.
Elevator
The elevator is accessible to wheelchair users.
It measures 1.40m by 1.20m.
The door clearance is 0.90m.
It has an interior Braille and high-relief button panel, and voice prompts.
Left luggage service
The auditorium has a cloakroom.
Entry at ground level and clearance > 1.20m.
Enough light.
Assistance dogs
Assistance dogs (guide, signal, medical alert, autism, service dogs for people with reduced mobility, etc.) are admitted free of charge, in accordance with Law 10/2007, of 29 June, on Assistance Dogs for the Care of People with Disabilities.
Available at: www--irekia--euskadi--eus.insuit.net
Physical accessibility
All of the auditorium's entrances are accessible to users with reduced mobility.
Mobility within the premises is accessible to wheelchair users.
The auditorium has wheelchairs available on loan.
There are seats reserved for wheelchair users in the auditorium and the chamber room.
There are 12 seats in the auditorium in row 17. (If you need more accessible spaces, please contact the Kursaal:

This email address is being protected from spambots. You need JavaScript enabled to view it.

).
The chamber room has accessible spaces in rows 1 and 9.
Please note! A portable ramp is required to access the seats in row 9.
They are reserved until the other seats are sold. They are put on general sale the day before the concert.
These seats are sold at a 20% discount compared to other seats in the same area.
Please note! Tickets for people with reduced mobility can only be purchased at the box office, but they can be reserved by phone (943 00 30 39) or by email (This email address is being protected from spambots. You need JavaScript enabled to view it.) followed by payment. They can then be received by email or collected at the box office.
Visual accessibility
The elevator has interior button panel in high relief and Braille, and voice prompt.
There is a protocol by which ushers accompany blind or low vision people to their seats.
There is Braille and high-relief signage.
There is a Braille / relief map in the hall.
Please note! It is advisable to request the service in advance.
Hearing accessibility
The auditorium does not have a magnetic induction loop or sound amplifiers.
The box office has a magnetic loop.
Depending on the show, this may be available. At congresses or talks with simultaneous interpretation, a magnetic loop is available for the receiver.