Summary
Eureka! Zientzia Museum is located in a privileged natural environment in San Sebastián's Miramón Technology Park. The museum is interactive and presents information in an attractive way, allowing visitors to handle objects and do experiments.
Eureka! Zientzia Museum aims to provide a stimulating environment to take part in activities related to the world of science and technology. It could be defined as a centre designed to make science accessible to people of all ages, as a complement to educational programmes that promote understanding of scientific principles, and as a resource for families and individuals in their leisure time, intended to foster their personal development.
It has a permanent exhibition with more than 178 interactive modules, distributed across 8 thematic rooms; a 3D planetarium with 140 seats where, besides teaching astronomy, there are also inverse cinema projections; an astronomical observatory in a 30m tower; a Foukaulten pendulum, a 14m glass tower, a wide variety of animations and shows, including the "electricity" show, a play area with flight simulators, roller coasters, Moto GP and Formula 1, and Animalia, a space to see different ecosystems and the animals that live in them.
In the gardens there are models of Gipuzkoa's heritage buildings.
Finally, it has a café, a shop, a locker service and free parking.
General information
Paseo Mikeletegi, 43. San Sebastián 20009 Gipuzkoa.
This email address is being protected from spambots. You need JavaScript enabled to view it.
10:00 - 19:00 (weekends 11:00 - 20:00)
Prices
Adults €10 and children under 3 years, Free. Reduced price €7
Visit their website for more information on prices and museum opening hours, the 2D/3D planetarium and guided tours to Animalia.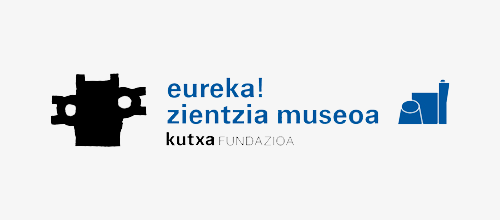 See complete tourist information about Eureka! Science Museum
Accessibility information
Transport
It can be reached by adapted public transport.
The 17 and 28 services from the urban bus network operated by Dbus have a stop 80 m from the museum.
The bus stop is "Miramon 7".
Information on services and schedules: www.dbus.eus
Or in Dbus app.
The pedestrian route between the bus stop and the museum are accessible to wheelchair users.
Parking spaces for
PRM
The museum has a private car park.
It has 2 spaces reserved for people with reduced mobility.
Dimensions: 3,0m x < 6m.
Access
The museum has a main entrance.
Automatic sliding door with a clearance of > 90cm.
The turning radius on the inside and outside of the door is greater than 1.50m.
It has turnstiles that are accessible to wheelchair users.
Please note! The door is glass and has no signalling bands.
Information point
Double height counter and free access area for wheelchair users.
You can find information and buy tickets on the website: www.eurekamuseoa.eus/en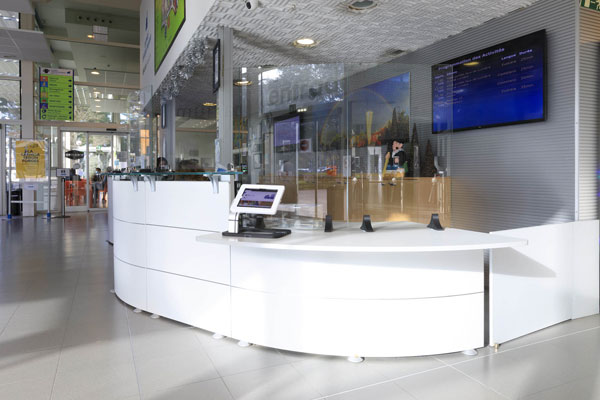 Adapted toilets
The museum has adapted toilets on both floors, one for each sex.
The door clearance is 90cm.
The turning radius is 1.50m.
The toilets have a fixed bar and a folding bar.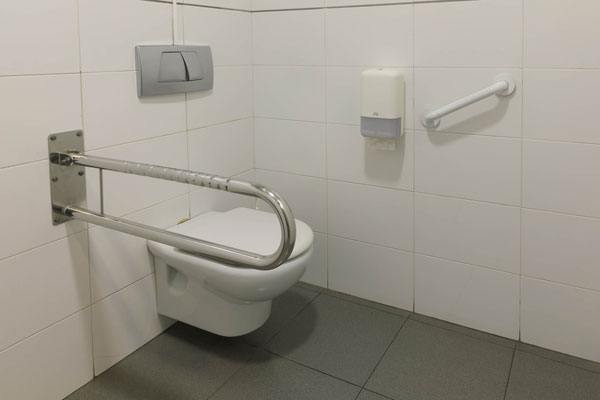 Getting around
The inside of the museum is accessible to wheelchair users.
Hard, non-slip flooring.
Homogeneous differences in height with ramps with slopes < 8%.
It has stairs and ramps.
Please note! Some areas of the museum are poorly lit.
Please note! There are aerial obstacles on the visit, such as showcases with overhangs below 2.20m in height.
Left luggage service
The museum has lockers.
Lockers at various heights.
Enough light.
Assistance dogs
Assistance dogs (guide, signal, medical alert, autism, service dogs for people with reduced mobility, etc.) are admitted free of charge, in accordance with Law 10/2007, of 29 June, on Assistance Dogs for the Care of People with Disabilities.
Physical accessibility
The planetarium has 4 spaces for

PRM

.
Adapted toilets.
Parking spaces for

PRM

.
Barrier-free vertical and horizontal access and circulation.
Please note! The simulation area is not accessible to people with reduced mobility.
Visual accessibility
You can take a guided tour of the Animalia and can touch some of the animals. Fee applies for the tour.
During the guided tour you can also touch the models of the heritage buildings in the museum gardens.
Hearing accessibility
No magnetic induction loop, sign guides, video guides or sign language tours.