Summary
The Victoria Eugenia Theatre is located in the very centre of the city next to the María Cristina Hotel. It is one of the most emblematic buildings in San Sebastián. Full of history, since its opening in 1912, the theatre has witnessed all of the city's main cultural events.
It opened its doors again in 2007 following a renovation and now has the following spaces: Main Hall, with a capacity of 910 seats, Club Room, Entrance and Foyer, China Room, Dance Room, Press Room, Multipurpose Rooms and outdoor premises.
General information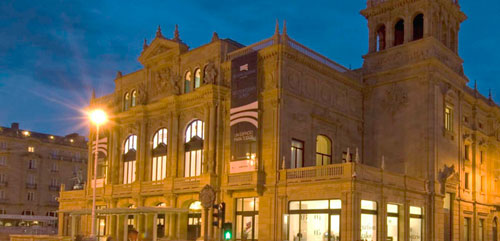 See complete tourist information about Victoria Eugenia Theatre
Accessibility information
Transport
It can be reached by adapted public transport.
Many Dbus city bus lines connect different points of the city with the Boulevard, Avenida de la Libertad, Plaza de Gipuzkoa and Calle Okendo, all close to the theatre.
For example, lines 5, 8, 9, 13, 14, 16, 18, 25, 21, 26, 28, 29, among others.
Information on lines and schedules: www.dbus.eus/en
The information is also in the Dbus mobile app that is available for iOS (Download) , Android (Download), and Windows (Download).
There are 2 taxi ranks nearby: one on the Boulevard next to the bus stops, and one on Calle Idiáquez.
Parking spaces for
PRM
There are several parking spaces reserved for people with reduced mobility near the theatre.
European Blue Parking Badge holders can park free of charge for 24 hours at a time in on-street spaces marked as

PRM

.
They can also park in any

OTA

zone at tariff 2.
For more information about on-street

PRM

spaces and the blue badge, see the On-street parking for PMR.
All public car parks have spaces reserved for

PRM

for a fee.
The pedestrian routes between the theatre, the taxi rank, the bus stops, the nearby PRM spaces and the public car parks in the vicinity are accessible to wheelchair users.
Access
The Victoria Eugenia Theatre has a main entrance.
Automatic sliding door with a clearance of > 90cm.
Access to the hall is by stairs and ramp.
Access to the rooms is by stairs and platform lift.
There is an elevator.
Information point
There is a box office outside the building.
Access is via a ramp and a door, which has a clearance of 85cm.
There is no counter accessible to wheelchair users.
Adapted toilets
The theatre has adapted toilets, one per sex.
The door clearance is 90cm.
The turning radius is 1.50m.
The toilets have a fixed bar and a folding bar.
Getting around
The inside of the theatre is accessible to wheelchair users.
Hard, non-slip flooring.
It has an elevator and lifting platforms.
Elevator
The elevator is accessible to wheelchair users.
It measures 1.40m by 1.20m.
The door clearance is 0.90m.
Left luggage service
The theatre has lockers and a cloakroom.
Entry at ground level and clearance > 1.20m.
Lockers at various heights.
Enough light.
Assistance dogs
Assistance dogs (guide, signal, medical alert, autism, service dogs for people with reduced mobility, etc.) are admitted free of charge, in accordance with Law 10/2007, of 29 June, on Assistance Dogs for the Care of People with Disabilities.
Available at: www--irekia--euskadi--eus.insuit.net
Physical accessibility
All entrances to the theatre are accessible to users with reduced mobility.
There are reserved seats in row 14. They are reserved until the other seats are sold.
A discount of 20% is applied to these seats for people with reduced mobility and a companion.
The auditorium has wheelchairs available on loan.
Visual accessibility
The elevator has an interior button panel in high relief and Braille.
There is a protocol by which ushers accompany blind or low vision people to their seats.
Please note! It is advisable to request the service in advance.
Hearing accessibility
The theatre does not have a magnetic induction loop or sound amplifiers.
Depending on the show, some may have subtitles.