Summary
Ondarreta beach is in the westernmost part of the city, sheltered by Mount Igeldo and at the foot of Miramar Palace, in the middle of La Concha bay. It is the least well-known of the city's three beaches, making it ideal for families and children. It has a children's playground right on the sand, 2 beach bars, canoe rental services, public toilets, changing rooms, drinking fountains, lifeguard and monitoring service, parasol and shade rentals, sports facilities, etc.
In the summer season, a platform is erected in the bay with slides and diving boards for everyone to enjoy.
General information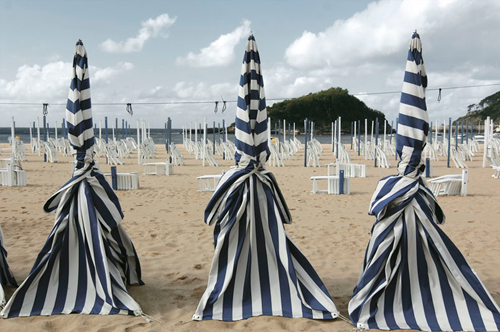 See complete tourist information about Ondarreta beach
Accessibility information
Services and facilities
WC: 11 (1 adapted).
Urinals: 4
Showers: 32 (hot water) + 1 for people with reduced mobility.
Lockers: 214
A towel rental service is available at the showers.
It has a first aid kit.
The beach has a lifeguard service during the bathing season from 1 June to 30 September.
Transport
It can be reached by adapted public transport.
The 5, 16, 25, 27, 33, 40, 43 and 45 services from the urban bus network operated by Dbus have stops close to the beach.
The nearest bus stop is "Zumalakarregi 8", 70 m from the beach.
The route between the bus stops and the beach is barrier-free.
Information on services and schedules: www.dbus.eus
Or in Dbus app.
Parking spaces for people with reduced mobility
There are on-street spaces reserved for people with reduced mobility near the beach.
European Blue Parking Badge holders can park free of charge for 24 hours at a time in on-street spaces marked as

PRM

.
They can also park in any

OTA

zone at tariff 2.
For more information about on-street

PRM

spaces and the blue badge, see the On-street parking for PMR fact sheet.
Access
The beach has access ramps.
Adapted toilets
There are adapted toilets and showers.
Getting around
In summer there is a walkway that allows people with reduced mobility to access part of the beach.
Please note! The walkway does not go all the way to the shore.
Assistance dogs
Assistance dogs (guide, signal, medical alert, autism, service dogs for people with reduced mobility, etc.) are admitted free of charge, in accordance with Law 10/2007, of 29 June, on Assistance Dogs for the Care of People with Disabilities.
Available at: www--irekia--euskadi--eus.insuit.net
Physical accessibility
Toilets, booths and adapted showers.
Parking spaces for

PRM

in the vicinity.
Barrier-free access.
Please note! The beach itself is partially accessible.
Visual accessibility
Important announcements by PA
Hearing accessibility
No magnetic induction loop at the lifeguard station.
There are also no instructions or information in sign language.